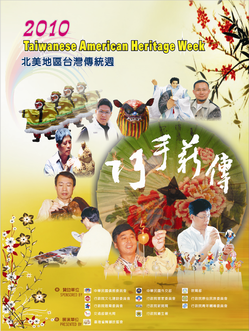 Date: Friday, May 7th, 2010
Time: 6:00-8:30pm
Location: Duderstadt Center Connector (hall way between Pierpont Commons and Duderstadt Media Center), the University of Michigan North Campus.
Date: Saturday, May 8th, 2010
Time: TBD
Location: Sheraton Hotel, 21111 Haggerty Road, Novi, MI
The events are free.
Announcement article: http://bit.ly/aPxe0w
The Michigan Taiwanese American Organization (MiTAI's) is hosting renowned Taiwanese artisans in celebration of Taiwanese American Heritage Week. These artisans are coming to Michigan to share and teach traditional Taiwanese art forms to the community.
Cultural presentations by renowned Taiwanese artisans in:
* Lion Head (used in Lion Dance) Painting
* Hand Puppetry
* Dough Figuring Sculpture
* Candy Blowing/Sculpture
* Gourd Carving
* Paper Umbrella Painting
* Sculpture using tree bark, leaves, and other natural materials..
* Silhouette paper cutting"