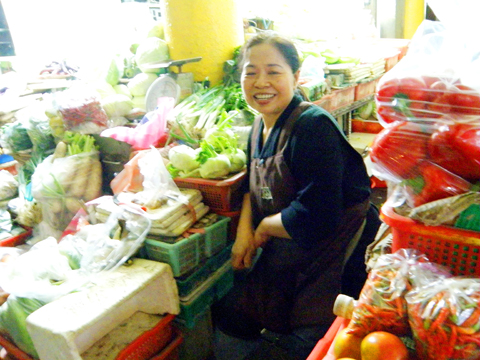 PHOTO: HUANG MING-TANG, TAIPEI TIMES
This story has been making the rounds since TIME magazine announced its 2010 list of the world's 100 most influential people, so in case you haven't heard, we thought we'd let you in on the news:
Since 1963, Chen Shu-chu has sold vegetables out of a stall in Taitung County's central market in Taiwan. She has managed to donate nearly NT$10 million ($320,000) to various charities and causes.
As FocusTaiwan reports, "the 61-year-old Chen Shu-chu said during the citation dinner at Time Warner Center that the honor recognized not only her but also the whole of Taiwan because 'it has many people like me, quietly doing good.'"
Her spirit and kindness is what we hope that all Taiwanese folks should aspire to. Congrats Ms. Chen! You make us proud!
*Updated* Read more:
1) Profile: TIME's entry about Chen Shu-chen written by filmmaker Ang Lee
2) Focus Taiwan: "Humble Taiwanese vendor handles New York spotlight in stride"
3) Taipei Times: "Vegetable seller joins 'Forbes' list of most altruistic"
4) Reuters: "Chen Shu-chu Selected For Asia Nobel Prize"
5) Huffington Post: "Changing Lives: A Market Woman's Dream"
6) BBC Interview: "The Taiwanese Vegetable Seller Turned Philanthropist"