Admit it. You didn't know that she was Taiwanese American, did you?
And before her critically acclaimed starring role as Wilhelmina Pang in Alice Wu's 2005 runaway hit film, Saving Face, you weren't quite sure where you had seen that beautiful face before… but you had. And you couldn't quite place that name… but it was somewhat familiar.
For over the past decade, she has graced such films such as Sweet Home Alabama, Nixon, Daddy Day Care, and Duplex. And, she has appeared on too many TV shows to mention here.
I had the privilege of meeting Michelle, who was a vibrant keynote speaker during the recent Midwest Intercollegiate Taiwanese American Students Association Conference at my alma mater, the University of Illinois at Urbana-Champaign. Since then, I've become one of her biggest fans. Not just because she is a talented actress and on the edge of super-stardom, but because she is as real as it gets.
When listening to Michelle speak about her experiences or share her life stories, one immediately senses that she lives life fiercely, yet is a down-to-earth woman who is guided by passion – for her art, for her Asian American community. When she speaks of her desire to see young people follow their own passions in life, the audience listens intently because they see a reflection of themselves before them. The audience can't help but be drawn to her because she connects so strongly with all our inner voices, all our grandest dreams.
One often thinks of "movie stars" as inaccessible, unapproachable, someone to be admired from afar… But Michelle is unique because she is so willing to immerse herself among her fans. Not once did I ever see her refuse to take a picture or give an autograph to an admiring student fan. And she even graciously accepted an invitation by a group of students to sit with them during the conference banquet. Actions speak louder than words, and in those simple acts, I know she sincerely touched the lives of many young Asian Americans.
Yes, I admire "real" people. Especially the ones who naturally know how to make an impact on the people they cross paths with.
At one time, I didn't know that she was Taiwanese American either. I do now, and I'm proud that she is.
But I would have been a fan anyways.
Biography for Michelle Krusiec (from IMDb)
At the age of 12, a talent agent scouted Michelle Krusiec in her hometown of Virginia Beach. She began formal training at the Virginia Governor's Magnet School for the Arts and graduated with a Theatre and English Degree from Virginia Tech University. She completed additional studies on scholarship at Oxford and then found herself globetrotting as the host of Travelers for the Discovery channel, visiting over 50 destinations around the world.
Krusiec has graced films such as Sweet Home Alabama, Cursed, Daddy Day Care, and Duplex, but her uncanny performance in Alice Wu's feature Saving Face (Sony Classics) caught the attention of critics from numerous publications, including the Hollywood Reporter, Variety, Slate Magazine, NY Post, and Washington Post.
Michelle's performance opposite Joan Chen garnered Krusiec a coveted Golden Horse nomination for Best Actress. Inarguably recognized as the "Chinese" Academy Award, the Golden Horse awards have recognized and established talents such as Joan Chen, Maggie Cheung and Gong Li. She is one of the first Asian American actors to be recognized by these prestigious awards.
In television, Michelle has made over 30 guest appearances (not including her own NBC series) on primetime hits such as Grey's Anatomy, Weeds, Cold Case, Without a Trace, NCIS, Monk, E.R. and HBO's dark comedy The Mind of the Married Man. Krusiec's independent forays have premiered in festivals such as Sundance and the Toronto International film festival.
In 2002, Michelle was invited to premiere her one-woman solo show, "Made in Taiwan," at the HBO Aspen Comedy festival. Hollywood Reporter named her one of the Top Ten Rising Stars. Recently, the Hollywood Reporter once again highlighted Michelle as part of their "Faces of Sundance" feature 2005.

The "ONE WORLD" cast – Pictured (l-r): Bryan Kirkwood as Ben, Alisa Reyes as Marci, Brandon Baker as Cray, Michelle Krusiec as Sui, Harvey Silver as Neal, Arroyn Lloyd as Jane — NBC Photo: Chris Haston
More on Michelle Krusiec
Filmography by IMDb
Official Michelle Krusiec Website
Michelle's Blogspot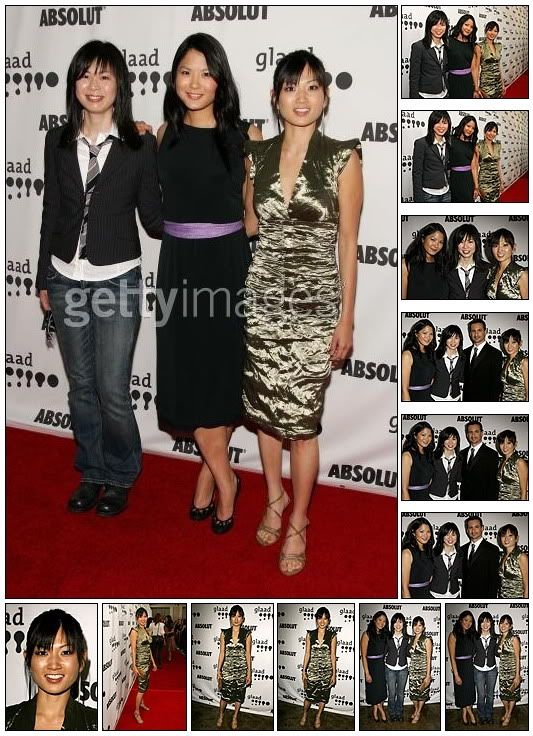 Saving Face Director Alice Wu and co-star Lynn Chen with Michelle Krusiec at the 17th Annual GLAAD Media Awards